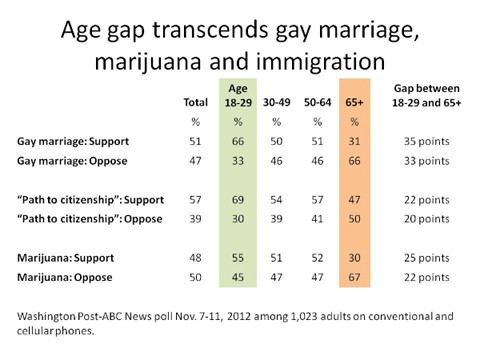 A Washingon Post/ABC News Poll offers a revealing look at the generational shift taking place today on same-sex marriage, the legalization of marijuana, and immigration.
The WaPo takes a closer look at the numbers:
Picking apart support within sub-groups in the polls reveals the ranging dynamics at play. Women are 18 percentage points more supportive of gay marriage than men (59 to 41 percent), but men are seven points more apt to support legalizing marijuana. And racial diversity explains much of the generational gap on immigration: Support for a "path to citizenship" is at 52 percent among whites under age 50 and 49 percent among those who are older. But two-thirds of both older and younger non-whites support a route to citizenship.
A bare 51 percent majority of African Americans oppose gay marriage while a similarly slim 54 percent support marijuana. Hispanics tilt the other way with 53 percent in support of gay marriage and a much wider 65 percent in opposition to marijuana.
They add: "This poll was conducted Nov. 7 to 11 among a random national sample of 1,023 adults, using conventional and cellular phones. The results from the full survey have a margin of sampling error of plus or minus 3.5 percentage points. Error margins are larger for subgroups."