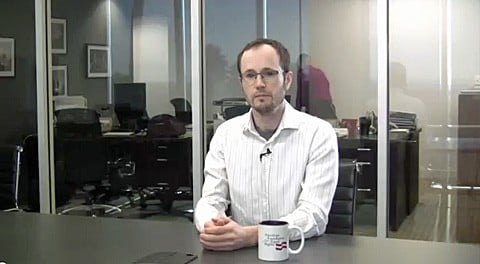 Following last week's marriage equality wins, everyone seems to be looking forward to see where equality will strike next.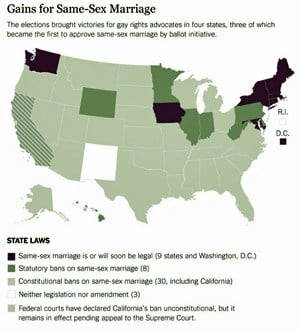 The NYT offers its forecast in a major article:
Nine states and Washington, D.C., have now legalized same-sex marriage. Though it remains unpopular in the South, rights campaigners see the potential for legislative gains in Delaware; Hawaii; Illinois; Rhode Island; Minnesota, where they beat back a restrictive amendment last Tuesday; and New Jersey, where Gov. Chris Christie vetoed a bill to legalize same-sex marriage in February.
They also note the split brewing on the right:
The most ardent opponents of same-sex marriage, led by evangelical Christians and the Roman Catholic Church, have vowed to redouble their defense of "natural marriage," even comparing it to the continuing fight against legal abortion.
So far, these opponents say they do not believe that the national tide has shifted against them but rather that they allowed themselves to be badly outspent in liberal-leaning states.
"We lost by small margins in bastions of deep-blue America," said Brian S. Brown, president of the National Organization for Marriage. He noted that 30 states have constitutional amendments banning same-sex marriage. He said he expected Indiana to vote on such an amendment in the next year or two, "and we will win."
But some Republicans question whether their party should try to resist a seemingly unstoppable demographic trend. "The die is cast on this issue," said Steve Schmidt, who advised the presidential campaigns of Senator John McCain and George W. Bush and has for years urged Republicans to accept same-sex marriage. "Why should we sign a suicide pact with the National Organization for Marriage?" Mr. Schmidt asked, saying the party should instead endorse the principles of federalism and let the states decide the matter.
AFER's Matt Baume gives you his rundown, AFTER THE JUMP…