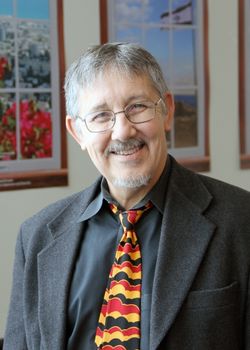 Here's something you don't see everyday: a conservative writer claiming his editor fired him for supporting marriage equality.
Ohio State professor D.G. Myers (pictured) says John Podhoretz, editor of the right wing literary magazine Commentary, let him go over a piece called "GOP Can't Be the Party of Old White Men" in which Myers wrote, "If marriage is everything we conservatives say it is, why should we want to deny its moral benefits to gays?"
An excerpt from Myers' piece:
If the Republicans are going to be the party of married churchgoers, though, they need to change their tune on two key issues. They must drop their opposition to same-sex marriage, and they must quit obsessing over illegal immigrants. These two issues alone are almost entirely responsible for the Republicans' image and reputation as the party of old white men.

What conservatives do not seem to grasp is that same-sex marriage is not an issue for gays only, but also for the young, who support it overwhelmingly, without question. And if the GOP really is the party of marriage, shouldn't it be in favor of extending the goods of marriage to as many as possible? If marriage is everything we conservatives say it is, why should we want to deny its moral benefits to gays? The point is to stand for marriage, for an institution that promotes human freedom, and not to barricade ourselves behind the status quo ante. That's how the party of freedom becomes the party of reaction.
Myers, who was invited by Podhoretz to write for Commentary in 2011, posted another pro-equality message on his own blog the following day — that was called "The Conservative Case for Marriage" — and within hours he received a note from Podhoretz giving him the boot.
Podhoretz, whose father founded Commentary in 1945 as an extremely right-wing literary review, claims there were other tensions between him and Myers and that he had wanted to fire him before the gay marriage article. Podhoretz also noted the article was too overtly political for what is meant to be a publication on letters and described Myers' allegations are an "abominable lie." He also called Myers' support for equality is "goopy and overheated."
Still, he says in a post at Commentary, "The issue was not the content," but Myers' tonal insubordination.
[Myers] did not have the authority to redefine his blog in this fashion. This is something he clearly accepted and understood in the past, because there have been times when he has reverted to his old blog, A Commonplace Blog, as he did tonight, to publish things he clearly understood were beyond the scope of Literary Commentary.

This overstepping—coupled with other, more bureaucratic matters I've alluded to here—was not the cause of the parting of the ways between D.G. Myers and COMMENTARY. It was more like the last straw. And I would have done the same if he'd put up a post on tax policy, or China, or Dick Morris's prognostications.
In another twist that provides further evidence our nation has turned a corner on marriage equality, the New York Daily News reports that Myers' conservative friends are defending him against Podhoretz on Twitter. Wrote one Myers fan, "Why are you homophobic? And why are you so terrified of independent minds discussing gay marriage in @commentary?"