Atlanta Mayor Kasim Reed came out for marriage equality yesterday with this statement: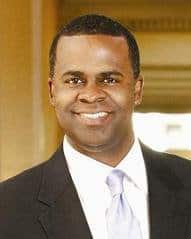 "Today marks an important day as I announce my support for marriage equality. It is well known that I have gone through a good bit of reflection on this issue, but listening to the stories of so many people that I know and care about has strengthened my belief that marriage is a fundamental right for everyone. Loving couples, regardless of their sexual orientation, should have the right to marry whomever they want. By signing this resolution, I pledge my support to marriage equality for same-sex couples, consistent with equal protection under the law provided under the Fourteenth Amendment of the United States Constitution…I believe in tolerance and acceptance, regardless of a person's race, ethnicity, gender, religion, sexual orientation or gender identity. That creed has been a guiding force for me throughout my life, as reflected by my actions and votes as a lifelong Democrat and elected official in the state of Georgia for more than 14 years."
The mayor had been under added pressure after the City Council, led by City Council member Alex Wan, passed a resolution last week in support of marriage equality.
A press release touted Reed's LGBT advocacy:
Today's announcement follows years of Mayor Reed's advocacy for equal rights for gays and lesbians. During his term in the Georgia House of Representatives, Mayor Reed sponsored the only hate crimes bill ever to pass the General Assembly and defended the LGBT community's right to adopt children. As a co-sponsor for the Employment Non-Discrimination Act, Mayor Reed proposed a measure that would prohibit discrimination in hiring and employment on the basis of sexual orientation or gender identity by civilian and nonreligious employers. In 2004, Mayor Reed also voted against the constitutional amendment to ban same-sex marriage in Georgia.
Said Freedom to Marry's Evan Wolfson: "Mayor Reed, like the more than 200 other Mayors for the Freedom to Marry, has his eye on the economic growth, prosperity, diversity, and opportunity that the families he serves cherish — and knows that including same-sex couples and their contributions in the community and in marriage strengthens the city and our country. As we build toward more wins in 2013, we welcome Mayor Reed's support at this crucial time in the freedom to marry movement, and are excited to work with him to make the case for the freedom to marry both in Atlanta and across America."