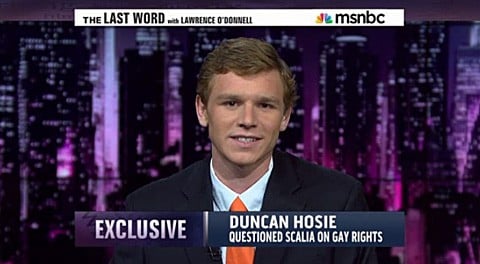 Princeton University Student Duncan Hosie '16, who confronted Supreme Court Justice Antonin Scalia about why he equates laws banning sodomy with those barring man-on-animal sex and murder, appeared on MSNBC's The Last Word on Tuesday night to talk about the confrontation and what he thought of Scalia's response
Hosie said he was nervous about asking the question:
"I wanted to ask him are those things really necessary to make his point…he didn't really address that question….I thought the response in the room was excellent…I think he was polite and cordial in how he responded. I don't think his response was accurate…I think his response was absurd in many aspects."
Professor Jonathan Turley also appeared on the segment, calling Scalia's commentary "troubling" considering the cases before the court.
Watch, AFTER THE JUMP…
Visit NBCNews.com for breaking news, world news, and news about the economy