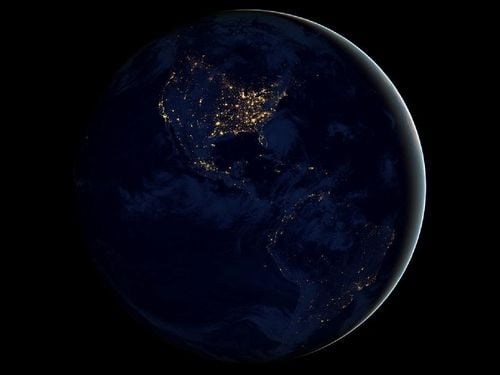 NASA and the NOAA yesterday released some shots of our planet at night taken by their Suomi NPP satellite. Snapped over nine days in April and 13 days in October of this year, the entire collection shows the planet as a "Black Marble Earth" spinning in space. The organizations have also created an amazing animated video with the pictures.
More info, from Business Insider:
The incredible global view comes from a joint NASA-NOAA satellite, called Suomi NPP, which carries an instrument (the day-night band) that is sensitive enough to detect light from a highway lamp, a ship at sea, or a wildfire in the middle of the night.

A snapshot of Earth's city lights was pieced together from images acquired over nine days in April 2012 and 13 days in October 2012 — which means that the satellite also got a good look at Hurricane Sandy barreling toward the Eastern seaboard at the end of October.
According to NASA, "Night images showed the widespread power outages that left millions in darkness in the wake of the storm."
Watch video and check out more photos AFTER THE JUMP.