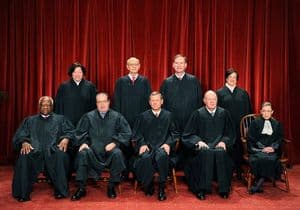 The Supreme Court announced no action today on the DOMA and Prop 8 cases before it. Next word could happen this Friday.
Our legal editor Ari Ezra Waldman weighs in:
Of course it seems like a disappointment now, but the Supreme Court not taking any action on the DOMA or Prop 8 cases is not bad news at all. Sometimes, cases take more than one conference to discuss. And, in these cases, there may be a lot of strategy involved. For example, moderate justices who want to take the DOMA cases but not the Prop 8 case may be maneuvering to ensure that happens. If they think this Court is not ready to give them a victory, better to stop it at this stage. The late-Justice Brennan was a master at this kind of internal politicking. But, strategy aside, no order on grant or denial is most likely the result of needing more time to discuss lots of issues, from avoiding Justice Kagan's recusal to which DOMA case(s) to take, and so on.
Additional analysis here from Lambda Legal's Jon Davidson.
Writes AFER:
We may hear soon that our case has been redistributed for consideration at the Court's next Conference, scheduled for this Friday, December 7. If this happens, we could get word from the Court that day, or the morning of Monday, December 10. It is important to remember that that the Supreme Court often takes more than one Conference to consider whether to grant review in certain cases.
Here at AFER, we remain optimistic that the Justices will soon act in our case, either agreeing to hear our arguments or allowing gay and lesbian couples to marry in California, but we must also be prepared to stay vigilant into the New Year for a final determination from the Court.