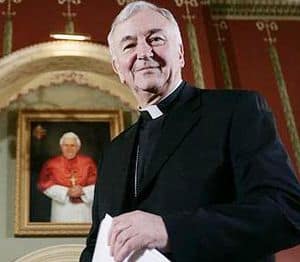 Catholic leaders in England were all about using their Christmas addresses to rain some grinch-like hate on marriage equality.
First there was Bishop Mark Davies and his unimaginative comparisons of Hitler and LGBT advocates; and now we have Archbishop of Westminster Vincent Nichols, who has been using his Christmas greetings to claim that Prime Minister David Cameron's plan to include same-sex couples in marriage laws is a "shambles."
Nichols first laid the groundwork in his Christmas sermon, praising "the love of husband and wife, which is creative of new human life," and declaring, "Sometimes sexual expression can be without the public bond of the faithfulness of marriage and its ordering to new life."
"Even governments mistakenly promote such patterns of sexual intimacy as objectively to be approved and even encouraged among the young," he said.
Later, in an interview with the BBC, Nichols took his argument to the next level, saying that the plan, "from a democratic point of view," is a "shambles."
"There was no announcement in any party manifesto, no Green Paper, no statement in the Queen's Speech. And yet here we are on the verge of primary legislation," he said.
"From a democratic point-of-view, it's a shambles. George Orwell would be proud of that maneuver, I think the process is shambolic."
Well, on that note, and with regard to both Nichols and Davies' comments, a quote from Orwel himself, "As with the Christian religion, the worst advertisement for Socialism is its adherents."