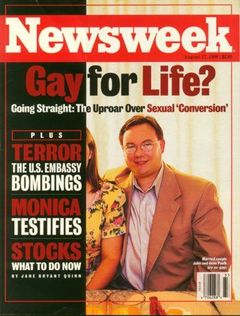 A three-judge panel in California yesterday put an injunction on the law prohibiting use of ex-gay on minors. Though the judges did not give a reason for their ruling, representatives from both sides of the debate of course spoke out about the decision.
Lynda Gledhill from the California Attorney General's office, which opposes ex-gay therapy for minors, vowed they will keep fighting those trying to "change" young gay Americans: "California was correct to outlaw this unsound and
harmful practice, and the attorney general will vigorously
defend this law."
Meanwhile, on the right, Liberty Counsel's Mat Staver said, "This law
is an astounding overreach by the government into the realm of
counseling and would have caused irreparable harm."
It's worth noting here two things. One, all major medical organizations have warned that ex-gay therapy, called "Reparative therapy" by its proponents, has negative side-effects, including depression and suicide. And there are no known positive effects. "There has been no scientifically adequate research to show that therapy aimed at changing sexual orientation (sometimes called reparative or conversion therapy) is safe or effective," said the American Psychological Association.
Second fact worth pointing out: Mat Staver has a history of wildly outrageous comments about the impact of progress. Just the other day he claimed marriage equality would lead to another civil war, so perhaps his sense of proportion vis a vis overreach is a bit skewed.
Anyway, this injunction comes after another judge blocked the law, meant to go into effect on January 1, earlier this month. He claimed opponents did not have sufficient proof that "ex-gay therapy" was harmful.