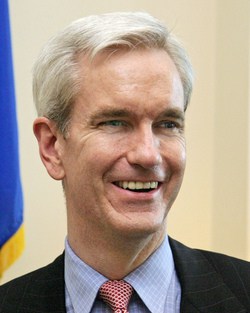 Connecticut Gov. Dan Malloy is ending 2012 by making a bit of history.
The CT Mirror reports that the Democratic governor today nominated Andrew J. McDonald, an openly gay former State Assemblyman, to be Connecticut's first openly gay state Supreme Court Justice.
As a justice, McDonald would bring to the state's highest court the
perspective of a politician who struggled to draft and pass legislation
on the death penalty, gay marriage, transgender rights, gun control and
drug penalties.

"The Judiciary Committee is the legislative cauldron for all of
that," McDonald said in 2009, when the panel drew the ire of Catholic
clergy by considering a bill that could have forcibly reorganized the
finances of Catholic parishes.

McDonald, who first ran for the state Senate in 2002 as an openly gay
politician, was co-chairman of the Judiciary Committee in 2005, when
the legislature passed a civil unions law that gave many of the same
rights as marriage to same-sex couples. The law was seen as a stepping stone to marriage, a right the state Supreme Court gave gay couples in 2008.
Malloy and McDonald have a long working history: McDonald left state office to join Malloy's administration as legal counsel in 2010.