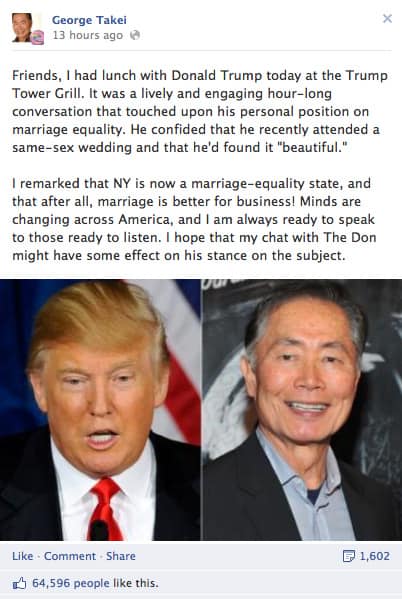 Donald Trump lunched with George Takei yesterday, according to a note on Takei's Facebook page.
Friends, I had lunch with Donald Trump today at the Trump Tower Grill. It was a lively and engaging hour-long conversation that touched upon his personal position on marriage equality. He confided that he recently attended a same-sex wedding and that he'd found it "beautiful."
I remarked that NY is now a marriage-equality state, and that after all, marriage is better for business! Minds are changing across America, and I am always ready to speak to those ready to listen. I hope that my chat with The Don might have some effect on his stance on the subject.
Good work, Mr. Sulu.
No word on whether this was the lunch that Trump had promised Takei back in May, when Takei said:
"I want to listen to what his concerns are," the gay, married actor said today. "I respect people's right to their faith…However, we're talking about civil law as opposed to religious law, and how religious faith or value should be written into a law that effects everyone."
Explaining why he wants to sit down with Trump, Takei said, "He is an influential person. He effects the thinking of a lot of people…I think he's an open minded fair minded person and certainly a savvy businessman."