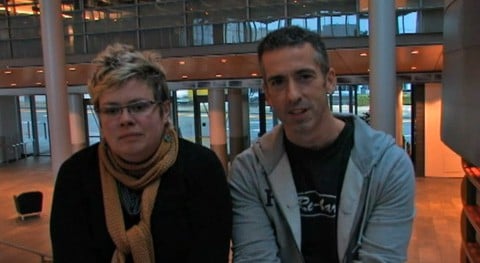 Washington Governor Christine Gregoire plans to sign marriage equality into law there today with gay couples who plan to marry at her side, the AP reports: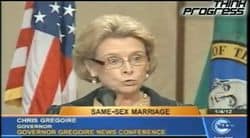 Gregoire and Secretary of State Sam Reed will certify the election on Wednesday afternoon in Olympia. The law doesn't actually take effect until Thursday, when gay and lesbian couples can start picking up their wedding certificates and licenses at county auditors' offices. King and Thurston Counties will open the earliest of any of the counties, at 12:01 a.m. Thursday.
Because the state has a three-day waiting period, the earliest that marriage certificates can be signed at a wedding or ceremony, making the marriage valid, is Sunday.
And on Sunday, a major event is going down at City Hall in Seattle, where more than 140 couples will marry in a wedding chapel setting conceived by Dan Savage and executed by set designer Jen Zeyl.
Writes Dan on Slog:
Jen and her team are busily preparing to move in and quickly transform City Hall on Saturday night so that everyone is ready by 10 AM Sunday morning. There are other wedding events in Seattle on December 9, but most seem to be charging the couples who want to marry. This event—thanks to the mayor, his team, the judges, Jen Zeyl and her crew, folks at the Stranger (Carey, Tone, Renee, Tim, Laurie, et al), and everyone who has donated—is the only one I know about that is completely free for the couples getting married. We've almost reached our fundraising goal to help cover expenses. Please consider kicking in a few bucks to help make City Hall—and the day—beautiful for all the lucky couples planning to marry.
Should be quite a celebration.
Watch Dan discuss the plans, AFTER THE JUMP…
Help Artists create Beautiful Intimate Wedding Environments for the First Day of WA State Marriage Equality on Dec. 9!! from wes hurley on Vimeo.