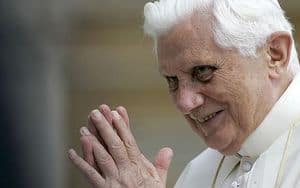 Thousands of Dutch Catholics have had enough of Pope Benedict's constant verbal attacks on gay people and are reportedly looking for a way to protest the homophobic pontiff by leaving the church all together.
Tom Roes, whose website allows people to download the documents
needed to leave the Church, said traffic on ontdopen.nl – "de-baptize.nl" – had soared from about 10 visits a day to more than
10,000 after Pope Benedict's latest denunciation of gay marriage this
month.

"Of course it's not possible to be 'de-baptized' because a baptism is
an event, but this way people can unsubscribe or de-register themselves
as Catholics," Roes told Reuters.

He said he did not know how many visitors to the site actually go ahead and leave the Church.

About 28 percent of the population in the Netherlands is Catholic and
18 percent is Protestant, while a much larger proportion – roughly 44
percent – is not religious, according to official statistics.
In addition to protesting homophobia in the church's ranks, Roes says he's also furious over the Vatican's sexual abuse cover-ups. Another group of activists performed similar "de-baptisms" in The Netherlands last year.