Dr. Michael Farris, the Chancellor and Founder of Patrick Henry College in Purcellville, Virginia, claims there are no gay students on his campus: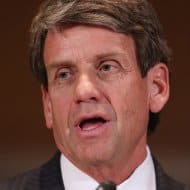 It's simple, really. Homosexuals can't exist at Patrick Henry College because the students sign an honor code, Farris claimed. "[Homosexuals] could not sign our honor code," Farris said, adding that he considers the actions of gay men and women "sinful."
"Part of the honor code is to be sexually pure," he added.
So you can imagine the chancellor's consternation when he learned of Queer at Patrick Henry College, a six-month-old, provocatively-titled blog operated by three pseudonymous writers – all of whom graduated from or have taken classes at the school.
Patrick Henry has threatened to sue the blog.
"Kate Kane", one of the bloggers behind QueerPHC, responds to Farris' statements about the existence of gay students:
There's a stark difference in the definition of our terms. In the eyes of those like Farris, homosexuality is just a sexual action or sexual lifestyle. For us, it's an orientation, a marker of personal identity. Is it possible that there are no students having gay sex while enrolled at PHC? Entirely possible. But that doesn't erase the existence of LGBTQ students at the school.
In a student body where there are so many virgins, why is it difficult to believe in the existence of a gay virgin?
It's difficult if you believe homosexuality is completely synonymous with having gay sex.
In addition, Farris seems to think that any LGBTQ student who signed the honor code would be lying. But if a student's sexuality has been repressed for years, they may not even realize they are anything other than straight or cisgender until after they enroll at the school. Personally, I did not begin to come to terms with my orientation until I was nearly ready to graduate. A student may also realize they are LGBTQ, but attempt to suppress it because they believe that being queer is wrong. Enrollment at a school like PHC could be part of a larger attempt to continue to live as straight or cisgender. Finally, since many parents hold the purse strings, some LGBTQ students might not have much of a choice as to where they attend school.
But regardless of why we enrolled at the school, we have all studied at PHC. It's time to acknowledge our existence.