Those of you who have been following this site for a while will remember Crystal Dixon. In 2008, I posted about the  then University of Toledo associate vice president of human resources, who was fired after writing an article in the Toledo Free Press in which she said gays "violate God's divine order," and later told reporters at her church that she had a divine mandate to write the column.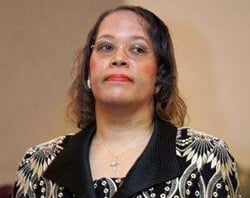 Said Dixon in the article, "As a Black woman … I take great umbrage at the notion that those choosing the homosexual lifestyle are civil rights victims. I cannot wake up tomorrow and not be a Black woman. Daily thousands of homosexuals make a life decision to leave the gay lifestyle."
She concluded: "My final and most important point. There is a divine order. God created human kind male and female (Genesis 1:27). God created humans with an inalienable right to choose. There are consequences for each of our choices, including those who violate God's divine order."
Dixon sued. And now a federal appeals court has upheld her firing:
A federal appeals court has upheld the University of Toledo's decision to fire a high-level human-resources administrator who wrote a newspaper opinion column challenging the idea that gay people deserve the same civil-rights protections as members of racial minority groups.
In a ruling handed down on Monday, a three-judge panel of the U.S. Court of Appeals for the Sixth Circuit held that the administrator's column "contradicted the very policies she was charged with creating, promoting, and enforcing," and cannot be excused as merely a statement of her own views as a private citizen. The panel affirmed a lower court's decision to dismiss the administrator's lawsuit accusing the public university of violating her constitutional rights by firing her.
More here.