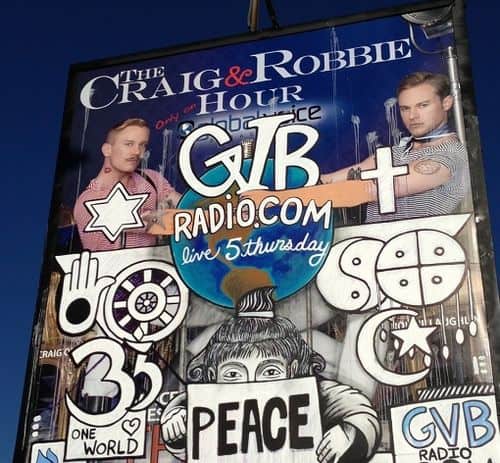 Craig Olsen and Robbie Laughlin, gay co-hosts of "The Craig and Robbie Hour" on Global Voice Broadcasting, don't have definitive proof that the second defacement of their billboard above LA's Beverly Boulevard was meant to be homophobic, but they're pretty sure it was. The sign had previously been covered with purple paint and replaced, and a search of the area saw no other examples of the second vandal's handiwork: white paintball smears.
Olsen's convinced this was an act of hate, especially after hearing that some people in the neighborhood had called the billboard, showing him and Laughlin fighting over a microphone, "too gay."
"Somebody had to take a gun, and I was a target. This felt more violent," Olsen told the Los Angeles Times. "I felt like somebody had smacked me across the face and said, 'Get out.' But I wasn't going to roll over.'
Rather than replacing the billboard again, Olsen and Laughlin would use the vandalism to spread "a message of hope."
[Olsen] hired artist Jaime Ochoa to incorporate the defacement into an artwork he calls a "message of hope."

The result is an unusual combination of advertisement and art rising over the westbound lanes of Los Angeles' Beverly Boulevard. Ochoa used the drips of white paint to create black-and-white religious symbols, a dove and a child holding a sign that reads, "PEACE."
….

Olsen wanted Ochoa to find an artistic way to depict diversity without covering up the old image entirely. He wanted whoever vandalized the billboard to see some paint spots left behind as reminders.

As a Latino artist, Ochoa said he is part of two groups that are often discriminated against, so he was enthusiastic about the project. The Silver Lake resident said he used the paint drippings as a canvas and tried to layer them into his images. He chose mostly black and white paint for a design he called "bold and simple" and tried to include lots of religious symbols so as "not to leave anyone out."

Then he painted a globe on top of the photo of the two hosts and made it appear as though they were hugging the world instead of wrestling for the microphone.
Speaking with FishbowlLA last month, Ochoa said, "I wanted to turn this [gay] hate crime into a positive message for the community." Olsen, meanwhile, told the Times, "It's almost like my holiday card to my community."