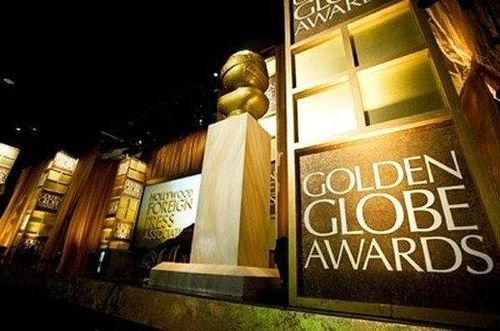 Hollywood's awards season is officially underway, and the Hollywood Foreign Press joined the party by announcing its Golden Globe nominations for best picture, best actor, best actress and all the other categories among cinema and television's 2012 crop.
The biopic Lincoln garnered seven nominations, making it the leader. Quentin Tarantino's Django Unchained received five nominations, including Leonardo DiCaprio and Christopher Waltz against one another for best supporting actor, while Les Misérables has been nominated in three categories, including best supporting actress for Anne Hathaway (congrats, babe!) and best supporting for Hugh Jackman.
In the realm of television, Girls, Modern Family and the underrated Showtime series Episodes were nominated for best comedy, while Downton Abbey, The Newsroom and Breaking Bad are among the dramas singled out for consideration.
I've included the entire list AFTER THE JUMP.
NOMINEES

Movies
Best Picture, Drama:
"Argo"
"Django Unchained"
"Life of Pi"
"Lincoln"
"Zero Dark Thirty"

Best Picture, Musical or Comedy:
"The Best Exotic Marigold Hotel"
"Les Misérables"
"Moonrise Kindgom"
"Salmon Fishing in the Yemen"
"Silver Linings Playbook"

Best Director:
Ben Affleck, "Argo"
Kathryn Bigelow, "Zero Dark Thirty"
Ang Lee, "Life of Pi"
Steven Spielberg, "Lincoln"
Quentin Tarantino, "Django Unchained"

Best Actress, Drama:
Jessica Chastain, "Zero Dark Thirty"
Marian Cotillard, "Rust and Bone"
Helen Mirren, "Hitchcock"
Naomi Watts, "The Impossible"
Rachel Weisz, "The Deep Blue Sea"

Best Actor, Drama:
Daniel Day-Lewis, "Lincoln"
Richard Gere, "Arbitrage"
John Hawkes, "The Sessions"
Joaquin Phoenix, "The Master"
Denzel Washington, "Flight"

Best Actor, Musical or Comedy:
Jack Black, "Bernie"
Bradley Cooper, "Silver Linings Playbook"
Hugh Jackman, "Les Misérables "
Ewan MCGregor, "Salmon Fishing in the Yemen"
Bill Murray, "Hyde Park on Hudson"

Best Actress, Musical or Comedy:
Emily Blunt, "Salmon Fishing in the Yemen"
Judi Dench, "The Best Exotic Marigold Hotel"
Jennifer Lawrence, "Silver Linings Playbook"
Maggie Smith, "Quartet"
Meryl Streep, "Hope Springs"

Best Supporting Actress:
Amy Adams, "The Master"
Sally Field, "Lincoln"
Anne Hathaway, "Les Misérables "
Helen Hunt, "The Sessions"
Nicole Kidman, "The Paperboy"

Best Supporting Actor:
Alan Arkin, "Argo"
Leonardo DiCaprio, "Django Unchained"
Philip Seymour Hoffman, "The Master"
Tommy Lee Jones, "Lincoln"
Christoph Waltz, "Django Unchained"

Best Screenplay:
Mark Boal, "Zero Dark Thirty"
Tony Kushner, "Lincoln"
David O'Russell, "Silver Linings Playbook"
Quentin Tarantino, "Django Unchained"
Chris Terrio, "Argo"

Best Foreign Language Film:
"Amour"
"A Royal Affair"
"The Intouchables"
"Kon-Tiki"
"Rust and Bone"

Best Animated Feature:
"Rise of the Guardians"
"Brave"
"Frankenweenie"
"Hotel Transylvania"
"Wreck-It Ralph"

Television:
Best Television Comedy or Musical:
"The Big Bang Theory"
"Episodes"
"Girls"
"Modern Family"
"Smash"

Best Television Drama:
"Breaking Bad"
"Boardwalk Empire"
"Downton Abbey"
"Homeland"
"The Newsroom"

Best Actress, Television Drama:
Connie Britton, "Nashville"
Glenn Close, "Damages"
Claire Danes, "Homeland"
Michelle Dockery, "Downton Abbey"
Julianna Margulies, "The Good Wife"

Best Actor, Television Drama:
Best Actor, TV Drama Steve Buscemi, "Boardwalk Empire"
Bryan Cranston, "Breaking Bad"
Jeff Daniels, "The Newsroom"
Jon Hamm, "Mad Men"
Damian Lewis, "Homeland"

Best Miniseries or Television Movie:
"Game Change"
"The Girl"
"Hatfields & McCoys"
"The Hour"
"Political Animals"