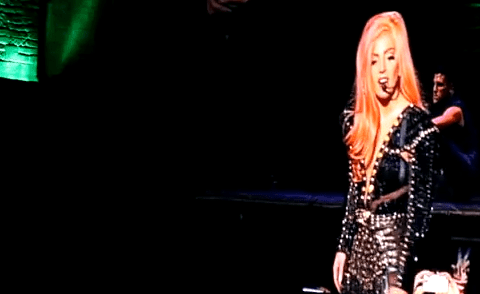 Fierce equality advocate Lady Gaga worked gay rights into her show in Moscow last night. Gaga had previously thanked Russian Prime Minister Dmitry Medvedev for rejecting conservative laws banning "homosexual propaganda," and last night told the crowd that they need not fear hate when she's around. She also thanked Moscow at large for supporting love.
A slightly edited transcript of her remarks, via Radio Free Europe:
You know, I can't even really believe that you're all here, because when they first called me they were like, "We want you to go to Russia but, you know, we might have some problems because of all the gay propaganda in your show." But I want to thank you. I want to thank you, Moscow. Thank you for spreading the message of equality around the world. Thank you for spreading…the message of "Born This Way."

…Get on your feet. Stand up, Russia. You have one chance…to unite. You have one night to come together for the voice of society, for equality in Moscow, equality in Russia. So stand up for yourself or stand up for your friends. Where's all my gay kids tonight? Tonight, this is my house, Russia. You can be gay in my house. And if you ever need me, Moscow, I will just be a telephone call away.
Watch video of Gaga's remarks as well as similar comments from her gig in St. Petersburg, where a "homosexual propaganda" law has passed, AFTER THE JUMP, though be warned she used not-for-work language.