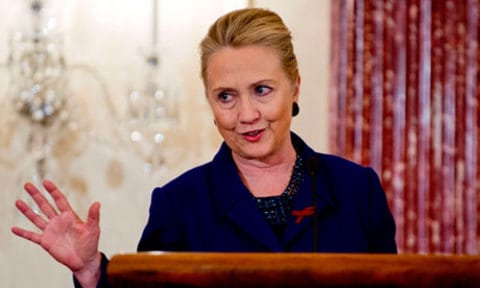 With her tenure as Secretary of State winding down and talk of a potential 2016 presidential run ramping up, wonks of all variety are trying to pin down where Hillary Clinton stands on political spectrum, particularly in terms of marriage equality.
According to most people, her LGBT-inclusive politics and common sense, Clinton stands alongside her husband and daughter in supporting full marriage equality. She's just been keeping quiet because of her role at the State Department.
Maggie Haberman writes at Politico, "[Her circle] indicated privately that she feels … because of her role as the country's chief diplomat that it was appropriate for her to stay out of this," but that as soon as she's in the clear and "she's given the right opportunity, that she will end up with the rest of her clan."
Freedom To Marry's Evan Wolfson told Haberman, "I really expect that we will hear from her explicitly when she's left the State Department."
Clinton's team must have gotten a little squeamish about the matter, because Haberman updated her post with a note from the Secretary's spokesman, Philippe Reiss: "Since the day she entered the State Department, Secretary Clinton has made providing greater benefits and support to the gays and lesbians who serve our country as diplomats a top priority. As Secretary, she is 100% focused on the job at hand, and nothing after that."
Regardless, Fred Sainz from the Human Rights Campaign is confident any and all Democratic candidates will support same-sex marriage in 2016: "It is a forgone conclusion that every candidate as a result of the president's leadership on the this issue [will be for gay marriage]."
This is assuming, of course, that anti-gay Democrats like Mark Clayton and Daniel Boman don't run.