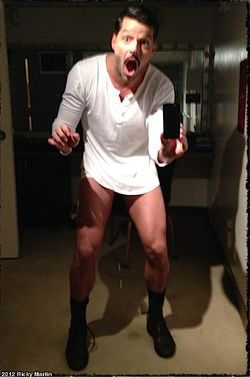 Ricky Martin took a break from his busy Broadway schedule to chat with the Huffington Post about his work fighting HIV/AIDS and how people's minds still need to be expanded when it comes to the disease's demographics.
"It's really sad when people say, 'Yeah, that's an issue for gays,' because it's not only the gay community that's struggling with AIDS — it's [heterosexual] men, women and children, too," he said.
"For many years I did it quietly, because I had this conception people
might think I was doing it for recognition, until I talked to real
activists who told me, 'Dude, you need to talk about this, because
people listen.'"
And if they're not listening, they're definitely looking at Martin when he drops trou for the non-profit Broadway Cares/Equity Fights AIDS (see right).
Martin and Wong also discussed President Obama's reelection, which Martin describes as "nothing but light."
"If we went the other way, it was going to be like going back in time. As a Latino Puerto Rican U.S. citizen that can vote for the president, it was very beautiful to see minorities getting together for democracy, for freedom, for civil rights," said the singer and Evita star.