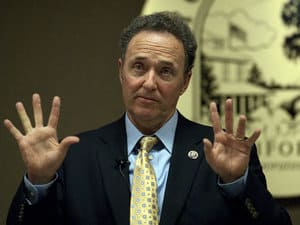 House Speaker John Boehner and his fellow Republicans are constantly harping on about the national deficit and financial responsibility, yet they're more than happy to pump millions into their ideologically-driven mission to "defend" DOMA, the law barring federal recognition of same-sex marriages.
Roll Call reported today that House GOP leaders secretly upped the cap amount they were allowed in their pursuit of injustice from $1.5 million already spent to $2 million.
The budget bump was given a green light by Rep. Dan Lungren (pictured), the House Administration Chairman, on September 28. House Minority Leader Nancy Pelosi didn't catch wind of the raise until today.
Chris Johnson at the Washington Blade asked Boehner today, before the $2 million story broke, whether he would ask for more funds, to which Boehner said, "If the Justice Department is not going to enforce the law of the land, then Congress will," even though the Obama administration does indeed still enforce DOMA.
Maybe the topic will came up during Obama and Boehner's conversation today about the so-called "fiscal cliff"?