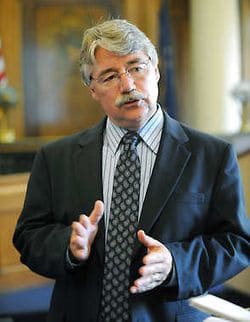 Indiana Attorney General Greg Zoeller confirmed today that he will an amicus brief with the Supreme Court to defend Indiana's right to ban marriage equality:
Zoeller said Friday he will file an amicus brief with the
high court when it takes up California's ban on gay marriage and the
federal Defense of Marriage Act next year.

…

Zoeller made the
announcement during a year-end news conference. He defended his decision
to stop defending the state's immigration laws following a Supreme
Court ruling invalidating similar measures in Arizona.
Though Zoeller made the announcement today, he actually wrote about his plans in an op-ed for the Evansville Courier Press earlier this month. In it, he attempts to defend his meddling in a Supreme Court case:
Defining marriage is an intrinsic function of state government that
ought not be stripped from states as happened to California in one of
the cases now being appealed. This is an important question of our time
and therefore we asked the U.S. Supreme Court to exercise its role in
our constitutional process to provide answers. Representing Indiana's
case is my responsibility as Attorney General, an obligation that I will
do to the best of my skill and ability.
A recent poll showed that 54% of Indiana voters oppose a proposed amendment to the state constitution defining marriage as one man and one woman, an amendment Republican Zoeller hoping to bolster with this hateful effort.