As part of its December JET LOVE wedding series, JET magazine has featured the marriage of Dr. Ravi Perry and Paris Prince, GLAAD reports: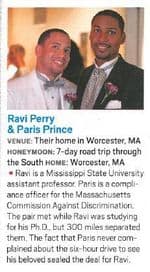 Ravi, an Assistant Professor of Political Science at Mississippi State University, and Paris, a licensed real estate broker and anti-discrimination compliance expert, were married in August at their home in Worcester, Massachusetts.
The biweekly feature, which traditionally showcases straight couples, includes a short bio of the couple and explains how the couple fell in love.
"We are excited and honored to have our wedding featured in the historic yet ever-current JET Magazine.  Long the hallmark in publishing news, culture, and events pertaining to the Black American experience, Jet's publishing of our union is historic" said Ravi and Paris.
Said Herndon Graddick, President of GLAAD: "JET Magazine has an extensive legacy of covering the lives of LGBT African-Americans. This is yet another opportunity to applaud JET Magazine for continuing to highlight the diversity of the African-American community and to urge other media outlets to recognize that it's these stories that help grow acceptance of our community and give a voice to LGBT people of color who are too often invisible in the media."