Mexican American music star Jenni Rivera was presumed dead after the remains of the plane that was carrying her and members of her entourage including close friend and publicist Arturo Rivera and make-up artist Jacob Yebale was found near Iturbide, a remote city near Mexico's Sierra de Arteaga national park, the L.A. Times reports: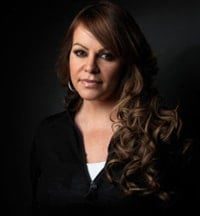 Rivera, a native of Long Beach, was 43. Mexico's ministry of transportation did not confirm her death outright, but it said that she had been aboard the plane and that no one had survived the crash. Six others, including two pilots, also were on board.
"Everything suggests, with the evidence that's been found, that it was the airplane that the singer Jenni Rivera was traveling in," said Gerardo Ruiz Esparza, Mexico's secretary of communications and transportation. Of the crash site, Ruiz said: "Everything is destroyed. Nothing is recognizable."
Rivera was an outspoken advocate for equality, writes GLAAD:
To express her support for LGBT youth and to stand up against bullying Rivera participated in Spirit Day. In 2011 she invited GLAAD to do an interview about bullying on her syndicated radio show and the following day performed dressed in purple at the Billboard Awards for Mexican music. She was also an outspoken advocate for immigrants.