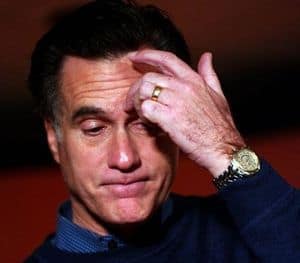 There's an early Simpsons episode in which Marge becomes the church's "Listen Lady," leaving pious Reverend Lovejoy with nothing to do but play with his model trains.
To the toy passengers on these trains, the brokenhearted and bored pastor, playing the conductor, says "If the passengers will look to their right, you will see a sad man. That is all…"
After reading this Washington Post piece, "A detached Romney tends wounds in seclusion after failed White House bid," I can't help but imagine failed president candidate Mitt Romney in that Lovejoy role.
An excerpt:
The man who planned to be president wakes up each morning now without a plan.

…

Gone are the minute-by-minute schedules and the swarm of Secret Service
agents. There's no aide to make his peanut-butter-and-honey sandwiches.
Romney hangs around the house, sometimes alone, pecking away at his iPad
and e-mailing his CEO buddies who have been swooping in and out of La
Jolla to visit. He wrote to one who's having a liver transplant soon: "I'll change your bedpan, take you back and forth to treatment."
In the end of the aforementioned Simpsons episode, Lovejoy saves Ned Flanders from being mauled by baboons after Marge gives him bad advice. The fallen pastor becomes a hero once again. Will Romney pull off a similar comeback? Is he willing to risk his life fighting off rabid baboons to save a fellow American?