Mitt Romney has his first post-election gig, Reuters reports: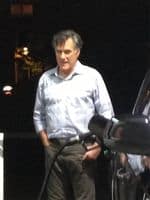 J.W. Marriott, Jr., the company's executive chairman, said, "We are delighted that Gov. Romney has agreed to rejoin our board, on which he has served with distinction twice before.  We will benefit from his tremendous energy and capability to guide long-term success in an increasingly complex business environment.  We look forward to working closely with him again as a member of our strong, talented and diverse board."
Arne Sorenson, Marriott's president and chief executive officer, said, "Gov. Romney has proven to be an astute, independent director who is fluent in the demands and opportunities of our highly competitive industry.  We are fortunate to have him back on our board."
Romney, who has served on the Marriott International board twice before, starts immediately.