Last week I posted a same-sex marriage plan put forth by David Cameron's administration that puts in place four legal "locks" in order that religious organizations not be required to marry same-sex couples. Under the rules, the Church of England would be forbidden to do so in any case.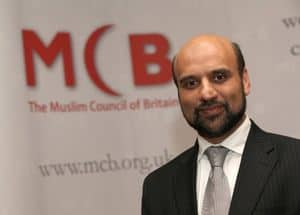 Muslim groups are now angry that the religions are being treated differently:
The Muslim Council of Britain (MCB), with more than 500 affiliated mosques, charities and schools, said it was "appalled" by "utterly discriminatory" legislation on same-sex marriage set out by the government.
The proposals would allow faith groups to conduct gay marriages but would ban the CofE and the Church in Wales from doing so.
The MCB secretary-general, Farooq Murad, said his organisation had strongly opposed gay marriage alongside other religions and was seeking an urgent meeting with culture secretary, Maria Miller, to express the concerns of many Muslims over the proposals. "No one in their right mind should accept such a discriminatory law," he said. "It should be amended to give exactly the same exemption to all the religions."
The criticism from the MCB comes after the CofE last week attacked the government's lack of consultation over its gay marriage plans, saying senior ecclesiastical figures learned of them only when Miller announced them to parliament.