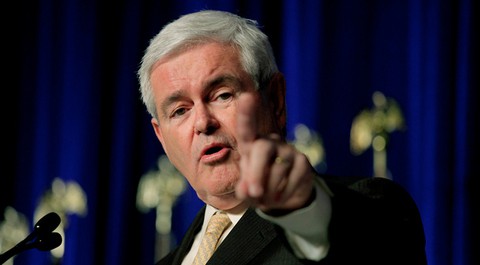 Though Newt Gingrich says he and his Republican Party have to come to terms with the "reality" of marriage equality, he doesn't seem too gung-ho about the prospect.
"The momentum is clearly now in the direction in finding some way to …
accommodate and deal with reality," he told The Huffington Post. "And the reality is going to be that
in a number of American states — and it will be more after 2014 — gay
relationships will be legal, period."
As for how such a reality would look, Gingrich says the GOP would prefer a legal distinction between church and secular weddings. But the former House Speaker also said that ironing out tensions over LGBT equality "will be much more difficult than immigration for conservatism to come to grips with."
Gingrich was also asked about his role in passing the Defense of Marriage Act 1996, and told reporters Sam Stein and Jon Ward he and his colleagues back then never imagined the "wave" of support marriage equality would gather over the next sixteen years.
"I didn't think [gay marriage] was inevitable 10 or 15 years ago, when we passed
the Defense of Marriage Act," he said. "It didn't seem at the time to be
anything like as big a wave of change as we are now seeing."
In response to Gingrich's comment, Chad Griffin, the president of Human Rights Campaign, the organization for which Gingrich's out half-sister Candace works, told BuzzFeed, "Gingrich has proven that leaders in the Republican party understand
where the country is moving on marriage but he is also brave enough to
say it out loud."
Stein and Ward of course asked Gingrich about the most recent election and the failed presidential candidate claimed that he would have done better against President Obama than the GOP's ultimate choice, Mitt Romney.
"I would have probably done better," he mused. "I don't want to be arrogant and say I
would have done better. I would say my impression is
that, from the Obama team's standpoint, the two candidates they found
the hardest to cope with were Perry and me."
Wait, wasn't this conversation about reality?