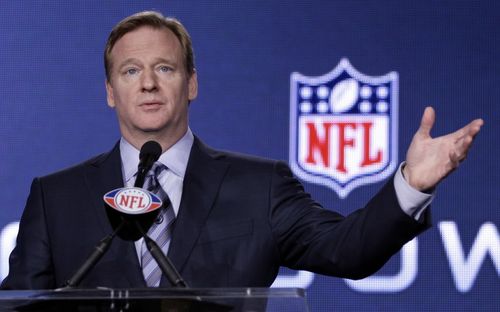 If there was one thing future NFL Commissioner Roger Goodell did not tolerate while growing up, it was when bullies picked on his then-closeted brother, Michael.
In a lengthy profile published in the latest TIME magazine, Goodell and Michael discuss those days, and the lengths Goodell went to keep his polar opposite sibling safe, and how it saved Michael's life:
When Michael Goodell, who came out after college, hears about
gay kids committing suicide because of bullying, he reflects on how he could have been one of them. "I was the type who would have been beat up a lot," says Michael.
"It would have been humiliating. What would that have meant if I did survive it. Would I have done drugs? There are all sorts of things you can turn to because of self-hatred and loathing. But none of that was even a possibility, because I had this support around me. So, yeah, Roger is very much a hero figure for me."
During an with an interview with the commissioner, I read Michael's words to him. Roger Goodell teared up. "Ha," he says, sniffling, not able to say much else. "That's the first time I heard that. I didn't know it had much impact
on him."
Goodell has been pretty quiet about his own politics, but when right-wingers went after Baltimore Raven Brendon Ayanbadejo for backing marriage equality in Maryland, Goodell defended the player. "I think in this day and age, people are going to speak up about what they think is important. They speak as individuals and that's an important part of democracy," he said.