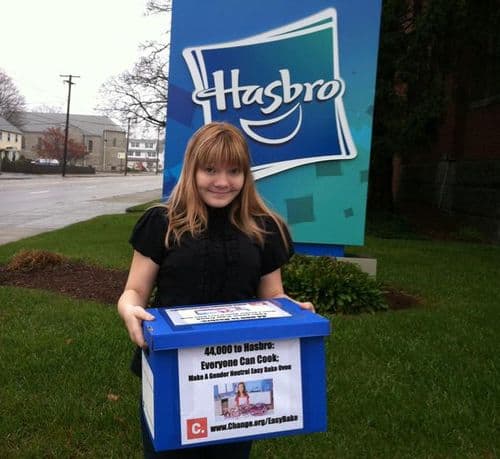 Earlier this month I posted about NJ teen McKenna Pope and her quest to get Hssbro to produce a gender-neutral Easy Bake Oven because her little brother loves cooking but the marketing on Hasbro's toy is directed at girls. Pope turned in more than 40,000 petition signatures, got the backing of professional chef Bobby Flay, and was invited to Hasbro where she was told the company would do as she wished, the AP reports:
Hasbro invited McKenna and her family to its Pawtucket, R.I., headquarters to meet with its Easy-Bake team, and on Monday, they drove to Rhode Island from New Jersey. During the meeting, Hasbro executives showed off a prototype of their newest Easy-Bake: one that's black, silver and blue.
Hasbro has been working on the new color scheme and design forabout 18 months, and decided to invite McKenna to see it and offer her thoughts, said John Frascotti, Hasbro's chief marketing officer.
McKenna said the company is doing everything she asked, including putting boys in the ads.
"I think that they really met most or even all of what I wanted them to do, and they really amazed me," she said, adding that Gavyn thought the new design was "awesome."
Frascotti pointed out that the classic toy has had about a dozen different color schemes, from yellow to green to teal to silver, since first being introduced in 1963. The most recent iteration, introduced in 2011, is mostly purple with pink accents.