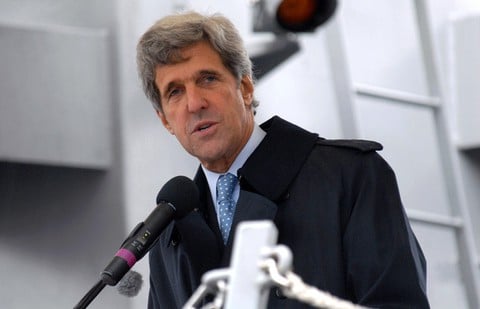 With Susan Rice out of the running to replace Hillary Clinton as Secretary of State when Clinton stepped down, all eyes turned to John Kerry, the Democratic Senator whom many assumed was high on President Obama's shortlist.
Well, turns out those people were right: it was reported late last night that the commander-in-chief plans on nominating Kerry, currently chairman of the Senate Committee on Foreign Relations and an advocate of equality.
Republicans have already indicated that Kerry would breeze through the nomination, one of the reasons UN Ambassador Rice stepped aside. They prefer Kerry not only for his foreign policy acumen, which Rice also has, but for the fact that his ascension to Secretary of State would get him out of the Senate, potentially freeing up some space for the GOP, though not for a little while.
CNN lays out how a power transfer would unfold:
If nominated by the
president and confirmed by his colleagues in the Senate, Kerry would
leave Congress, and Deval Patrick, Massachusetts' Democratic governor,
would appoint a replacement.

By state law, a special
general election is required to take place 145 to 160 days after a
vacancy occurs. So if Kerry were nominated, confirmed, and then stepped
down on January 21 (Inauguration Day), the election would take place
between June 14 and June 29, with primary elections being held six weeks
earlier.

Whoever wins the special
election would serve the final year and a half of Kerry's term and
would then be able to run again for a full six-year term in office in
the 2014 midterm elections.
The formal announcement should be coming early this week.