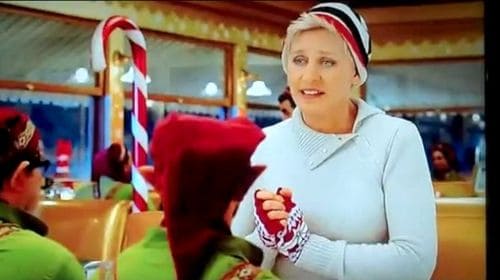 One Million Moms, a conservative group made up of far less than one million people, made a name for itself earlier this year by boycotting JC Penney after the retailer cast lesbian entertainer Ellen DeGeneres as a spokesperson. They were also incensed – actually, they used the word "disturbed" – when Penney featured gay dads in their catalogue. JC Penney stood by DeGeneres and LGBT inclusion through it all.
In addition to the JCP "action," OMM also protested Victoria's Secret, Urban Outfitters and other clothiers whose advertising or approach they find objectionable, read: contemporary. And they threw a fit over gay characters in Marvel and DC comic books.
The anti-DeGeneres protest, by far the group's most high-profile gripe, went on for a while, seemed to fizzle, but then inflamed anew when the talk show host appeared in a JC Penney holiday commercial.
"A new JCP ad features Ellen and three elves. JCP has made their choice
to offend a huge majority of their customers again. Christians must now
vote with their wallets," the group said last week.
Now one would assume OMM would be gearing up for a huge holiday blitz against the company, but Christian Post reported late last week that despite the most recent call, OMM is calling off the hounds. They're throwing in the discount towel and giving up their fight against DeGeneres and the retailer.
"We're not taking action, we're moving on. We've already contacted the company," said Monica Cole, the group's ringleader.
So does that mean this is the last we'll hear from One Million Moms? About DeGeneres, maybe. Forever? Doubtful.But this should give us a nice reprieve for the holidays. Thanks, OMM!