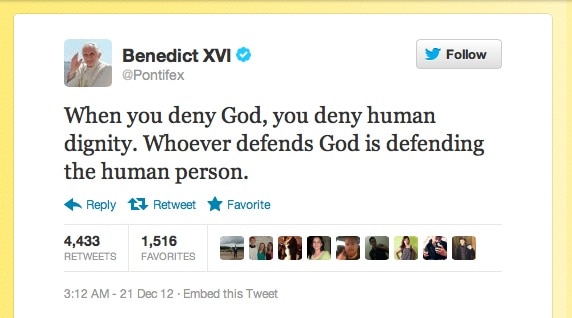 The Pope went after gay marriage in a big way today, USA Today reports:
Gay marriage denies God and devalues human dignity, Pope Benedict XVI said Friday in his annual "state of the Church address at the Vatican.
Speaking to the Curia, the bureaucrats who run the global church of 1.2 billion Catholics, the pope said opposition to gay marriage is a way of defending humanity: "Whoever defends God is defending man." Benedict also quoted the chief rabbi of France, Gilles Bernheim, who has written that promoting a right to same-sex marriage is an "attack" on the traditional family made up of a father, mother and children.
The address echoed his recently released annual peace message, which said gay marriage, abortion and euthanasia are threats to world peace.
The Pope also posted a tweet that was pulled from his Curia address, tied to his attack on gays.
The AP has more on the speech:
The pope pressed his opposition to gay marriage Friday, denouncing what he described as people manipulating their God-given identities to suit their sexual choices — and destroying the very "essence of the human creature" in the process…
…"People dispute the idea that they have a nature, given to them by their bodily identity, that serves as a defining element of the human being," he said. "They deny their nature and decide that it is not something previously given to them, but that they make it for themselves."
"The manipulation of nature, which we deplore today where our environment is concerned, now becomes man's fundamental choice where he himself is concerned," he said.