House Speaker John Boehner was handed a stunning defeat as he failed to call a vote on his so-called "Plan B" to avert the fiscall cliff on Wednesday evening, the NYT reports: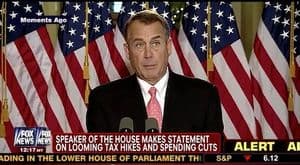 House Republican leaders abruptly canceled a vote on the bill after they failed to rally enough votes for passage in an emergency meeting about 8 p.m. Within minutes, dejected Republicans filed out of the basement meeting room and declared there would be no votes to avert the "fiscal cliff" until after Christmas. With his "Plan B" all but dead, the speaker was left with the choice to find a new Republican way forward or to try to get a broad deficit reduction deal with President Obama that could win passage with Republican and Democratic votes.
What he could not do was blame Democrats for failing to take up legislation he could not even get through his own membership in the House.
Stock markets around the world dove.
Boehner released a astatement after calling off the vote:
"The House did not take up the tax measure today because it did not have sufficient support from our members to pass.  Now it is up to the president to work with Senator Reid on legislation to avert the fiscal cliff.  The House has already passed legislation to stop all of the January 1 tax rate increases and replace the sequester with responsible spending cuts that will begin to address our nation's crippling debt.  The Senate must now act."
The White House said it was still hopeful a deal could be reached.
"The President's main priority is to ensure that taxes don't go up on 98 percent of Americans and 97 percent of small businesses in just a few short days," said White House Press Secretary Jay Carney. "The President will work with Congress to get this done and we are hopeful that we will be able to find a bipartisan solution quickly that protects the middle class and our economy."
Earlier in the evening:
"The Republicans in the House have decided to run down an alley that has no exit while we all watch," Carney said.
He said President Obama "is ready right now" to negotiate a compromise but needs Republicans to come back to the table. Instead, Carney said, "They're wasting a lot of time on an effort that is pointless."