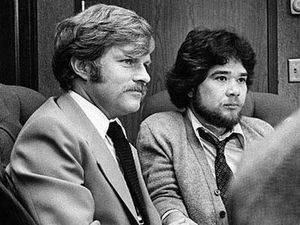 In 1975, long before most LGBT people were even thinking about marriage equality, Richard Adams and Anthony Sullivan tied the knot in Boulder, Colorado.
They later petitioned the government for full permanent resident status for Australian Sullivan, a bold move in an era when homophobia was still very much institutionalized.
The government was clearly not feeling very generous: according to The Advocate the Immigration and Naturalization Service wrote to the men on November 24, 1975, "You have failed to establish that a bona fide marital relationship can exist between two faggots." A lawsuit soon ensued, the first of its kind.
Frontiers LA offers more background on the legal action:
Adams filed a lawsuit arguing that the denial violated his right to equal protection under the U.S. Constitutional. Meanwhile, the INS put Sullivan's deportation hearing on hold and when it resumed again a month after Ronald Reagan became President, Sullivan applied for a suspension of deportation, claiming deportation would cause the couple extreme hardship. The application was denied and Sullivan appealed.

The Board of Immigration Appeals (BIA) denied his appeal, saying Adams was not "a qualifying relative to whom hardship may be shown under the express provisions of the statue."
Sadly, Adams died Monday at the age of 65. The men, who met in 1971 in LA, had been together for 41 years and their journey is featured in the documentary Limited Partnership, a previous of which I've included AFTER THE JUMP.
Lavi Soloway, an immigration lawyer who worked with the couple, said of Adams, "Richard never gave up on the belief that justice would prevail, and he never waited for others to do the job. He is one of the heroes on whose shoulders we all stand as we carry on the fight for full equality."
Soloway also pointed out that when the men married in 1975, they replaced "till death do us part" with "for as long as there is love."
Watch a preview of Limited Partnership featuring Richard Adams and Anthony Sullivan AFTER THE JUMP.