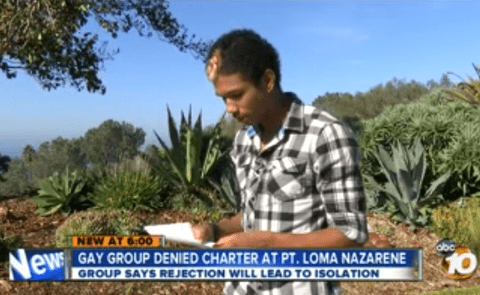 This was included in our news roundup the other day, but it's worth mentioning again that Point Loma Nazarene University in San Diego is becoming the site of a small yet meaningful battle for LGBT inclusion.
Sean Lewis, a gay senior at the evangelical-aligned school, told local ABC 10 that he has experienced plenty of homophobia over the years — including Facebook messages saying he is going to hell — and recently asked officials if he could organize an LGBT organization to help bridge religious and social divides.
The answer: no.
To lessen that angst among gay students, Lewis recently spearheaded a campaign to begin a gay-themed discussion group.

Lewis read a portion of the mission statement to 10News.

"We hope LGBT students can share their neglected stories, lingering questions and increasing trials with their Christian comrades," he read.

Lewis applied for a charter for his group, but he was recently called into a meeting and told by Caye Smith, the school's vice president of student development, that there would be no be group.    

"It would be problematic for us to charter any group that would be contrary to the positions of the Church of the Nazarene," said Smith.
The group was to be called "BridgePointLoma".
Smith also said that while they welcome "discussion" at the school, officials are not even entertaining the idea of an LGBT organization.
"We affirm those students are individuals created in the image of God," she said when asked whether she agreed with Lewis and others that rejection of the group could lead to further isolation.
Of course the school's position may change now that the press is picking up word — and, more importantly, national advocacy group GLAAD, which is supporting Lewis' campaign. So too is Bishop Gene Robinson, first gay bishop in the Episcopal church.
Watch video of ABC News 10's report AFTER THE JUMP.