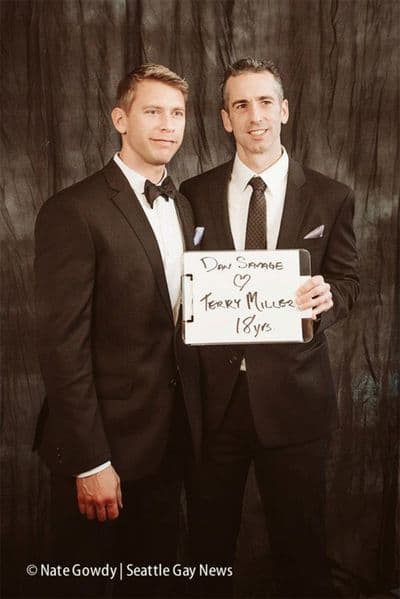 PHOTO OF THE DAY: Dan Savage and Terry Miller's wedding portrait. 
BY SAM GREISMAN
A look back at today's top stories
GAY ISSUES
Yesterday we reported on a trip that Supreme Court Justice Scalia took to Princeton University and how he was pressed about his stance on gay rights there. Well now the student who asked Scalia the question is talking about his experience. New York City Council Speaker (and potential future NYC mayor) Christine Quinn was also very offended by Scalia's remarks. And what self-respecting gay person or ally wouldn't be?
The University of Iowa is making history by becoming the first public institution to ask applicants about their orientation and gender identity. In other potential history making news, same-sex marriage may be legal in England next year. Although not if you want to have one in an Anglican Church. 
Jon Stewart sat down with gay Episcopal Bishop Gene Robinson to talk about a range of issues including the upcoming Supreme Court cases and his coming out. Meanwhile, Stephen Colbert took a look at some of the most successful and juice-creating techniques for curing homosexuality. 
**
ENTERTAINMENT
George Takei recently had, what one can only presume was a bizarre, lunch with Donald Trump and today he told Thomas Roberts all about it. Also the gay winners from The Amazing Race sat down with the ladies of The Talk to share their experience on the show. 
**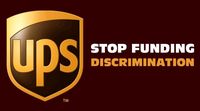 WINGNUTTERY
A masked gunman opened fire in a Portland area mall last night killing himself and two others. The efforts of one Macy's employee are being called heroic today. 
The Family Research Council has announced that they will boycott UPS because the parcel service has cut funding to the Boy Scouts over their anti-gay policies. Wow UPS is really gonna feel that. Lindsey Graham, Joe Lieberman and John McCain got together last night to blow a whole lot of hot air and generally sound crazy regarding same-sex marriage. 
**
VIDEOS OF THE DAY
Filmmaker Blake Pruitt interviewed a bunch of 20-somethings on gay life in New York City. I am personally shocked that I didn't recognize anyone on there from OkCupid. Also Dan Savage wants to help you find out if you are freaky in bed. 
2012 is winding down and Google already has its Year in Review video set to go.