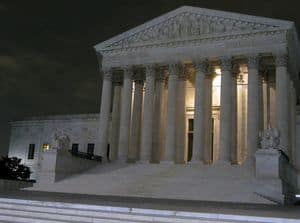 Before we get ahead of ourselves celebrating news that the Supreme Court will hear cases on DOMA and Proposition 8, remember that a ruling against equality could be a blow to all the progress that's brought the movement this far.
The New York Times makes that quite clear in an article called "Worry Tempers Joy Over Gay Marriage's Moment in Court."
An excerpt from the sobering piece:
The fact that the Supreme Court is hearing the cases hardly means it is about to ratify same-sex marriage. As supporters and opponents said in interviews, the court might well use these cases to find that there is no constitutional protection for same-sex marriage.

"There is no question that it is a risk," said Lt. Gov. Gavin Newsom of California. "If they nationalize it and reject it, that's going to take decades to come back to the court."
…
Jubilation was tempered with apprehension as the implications of the decision were discussed across the country.

"That the Supreme Court is taking this up is truly exhilarating, but I'm very nervous and unnerved by the possibilities of what could come out of this," said Don Romesburg, 42, an associate professor of women and gender studies at Sonoma State University.

"It is frightening to have our basic rights as citizens in the hands of just nine people, when four or five of them are deeply ambivalent, at best, about our very existence…"
No matter how you're feeling about SCOTUS and marriage equality now, it's bound to change: we still have at least three months before arguments are heard and then another three or so for a decision, meaning that we can all look forward to about six months of frown wrinkles and worry warts. But, hey, nobody said equality would be pretty.