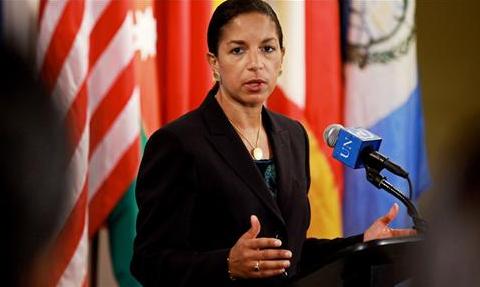 MSNBC is reporting that U.S. Ambassador to the UN Susan Rice has taken her name out of the running to replace Hillary Clinton as Secretary of State when Clinton steps down next year.
The confirmation process, which Republicans have vowed to derail, "would be lengthy, disruptive and costly – to you and to our most pressing national and international priorities," Rice wrote to President Obama in a letter obtained by NBC News.
"That trade-off is simply not worth it
to our country…Therefore, I respectfully request that you no longer
consider my candidacy at this time." Rice, a fierce advocate of international LGBT rights, also reportedly said she is "saddened" by the partisan bickering that arose over her consideration.
"The position of secretary of state should never be politicized," she
wrote. "I'm saddened that we have reached this point, even
before you have decided whom to nominate. We cannot afford such an
irresponsible distraction from the most pressing issues facing the
American people."
Republican Sens. John McCain, Kelly Ayotte and Lindsey Graham have been particularly voracious in their attacks on Rice, particularly her handling of the attack on the States' embassy in Benghazi, an attack that left U.S. Ambassador Christopher Stevens and three others dead.