Liverpool footballer Suso has been fined approximately $16,000 for referring to a teammate as "gay" on Twitter, Sky News reports: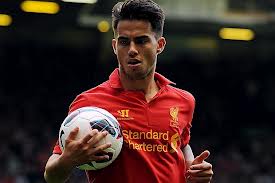 Suso last month posted a photo of Enrique having his teeth whitened with the comment: "What f*** is he doing? This guy is gay… he does everything except play football."
The attacking midfielder later deleted the tweet and uploaded the photo with a different comment: "I dunno what to say…"
Suso has been reprimanded for the remark.
The FA said in a statement: "Following an independent regulatory commission hearing Monday, Liverpool's Jesus Fernandez Saez (Suso) has been fined £10,000 and warned as to his future conduct for a comment posted on Twitter.
"The charge, which the player admitted and requested a paper hearing, was that
he acted in a way which was improper and/or brought the game into disrepute in that the comment was posted on his Twitter account and included a reference to a person/s sexual orientation and/or disability."
Enrique defended his teammate: Is amazing how FA can fine my friend Suso Fernandez for a banter thing. Was just a joke!!!'
The photo Suso was referring to in his tweet, AFTER THE JUMP…