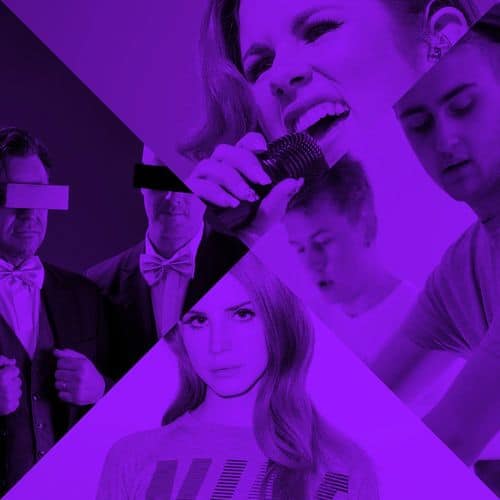 BY OCCUPY THE DISCO / JOSH APPELBAUM
The OXD Mirror is a weekly music column brought to you by the boys of OCCUPY THE DISCO (OXD), a New York City based movement created by three music lovers, Ru Bhatt, Josh Appelbaum, and Tadeu Magalhães, who want to share their love for disco, house and dance music with the world.
Katy B x Geeneus X Jessie Ware: 'Aaliyah'
For me, it doesn't get much better than when a few of the most buzzworthy and talented names in pop come together to make a bouncing club track.  Katy B's new Danger EP is available for free on her site, katybofficial.com, and contains this lovely gem on it.  Reminiscent of some of Hercules and Love Affair's music, 'Aaliya'" showcases the chanteuses beautiful voices against producer Geeneus' 90's-inspired dance beat.  We bumped into Jessie Ware at Solange's concert at Bowery Ballroom on Tuesday and she told us she thought it was the perfect track to listen to before starting your night – and I could not agree more with that sentiment.
Artful Dodger: 'Please Don't Turn Me On (Disclosure Remix)'
No strangers to our column, brothers Guy and Howard Lawrence, have made quite a splash as the garage-house act Disclosure.  After remixing Jessie Ware's 'Running' this fall, Disclosure teamed up with vocalist Sam Smith for their big hit 'Latch', which hit #11 on the UK charts.  This time the brothers have given their electronic touch to some other fellow British countrymen, R&B band Artful Dodger who are mostly known for their song 'Please Don't Turn Me On,' released in 2000.
Dropout Orchestra: 'Your Girl (featuring Kinema)'
Swedish house music duo Dropout Orchestra are masters of production and have worked on mixes for proteges like Mario Basanov, Moullinex and Flight Facilities.  Their latest effort is an original single along with Brighton-based disco band Kinema.  The collaboration is a fun, light-hearted track complete with a little disco piano, syths, and of course top-notch vocals.  Chromeo fans will love this track, as they share a sound eerily similar in both production and vocals.
NEW TRACKS FROM LANA DEL REY AND MORE, AFTER THE JUMP…
Lana del Rey: 'Ride (Eli Escobar Edit)'
Admittedly I was not a big fan of Lana del Rey when she first came out.  After fellow OXD-er Ru Bhatt put a few remixes of her epic track 'Summertime Sadness' on his podcasts (this one in particular), I decided to give Lana another try.  And then I fell hard for her.  'Ride' is a song off of her latest EP (or really mini album) Paradise.  Though the original is in the same air of most Lana songs, a very Nancy-Sinatra-like ethereal sound, fellow New Yorker Eli Escobar has revamped the track with a completely different sound.  His signature slick, dark house music is a welcome reprieve from the oversaturated and predictable "EDM" music many house producers are putting out there.  He pairs Lana's crooning with loops of her chorus humming against an intense house track for an entirely new aesthetic that feels like it could be the backdrop to a European fashion runway.
Rogue Vogue: 'Feel Love'
As someone who missed out on the 90's house music scene, I sure do have a penchant for music that harkens those golden days of club culture.  Lucky for me, a slew of 90's house inspired artists like Azari & III and Rogue Vogue have been making waves in the music business and bringing house music back to its glory days.  Rogue Vogue makes music that is inspired by, naturally, the vouging movement that became huge in the early 90s.  The Chicago producer's latest, 'Feel Love', will evoke feelings that will bring you back to the days of Paris is Burning and Madonna wearing cone bras.
This week's post was written and curated by Josh Appelbaum.
For more information on OXD, check out our website and accompanying blog at www.occupythedisco.com, like us on Facebook, or follow us on Twitter: @OccupyTheDisco.