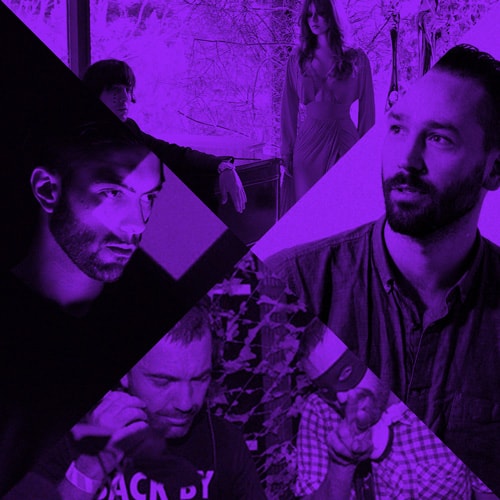 BY OCCUPY THE DISCO / TADEU MAGALHÃES
The OXD Mirror is a weekly music column brought to you by the boys of OCCUPY THE DISCO (OXD), a New York City based movement created by three music lovers, Ru Bhatt, Josh Appelbaum, and Tadeu Magalhães, who want to share their love for disco, house and dance music with the world.
Chromatics: 'Cherry'
I first discovered the Chromatics when I heard their version of Kate Bush's 'Running Up That Hill' and I was instantly in love with their dark disco-infused aesthetic. Following their latest album, Kill For Love, which was released earlier this year, the Portland-based group has contributed a brand new track to the second edition of the After Dark compilation, curated by one of the band members, Johnny Jewel. 'Cherry,' an 80's post-disco song with sweet vocals and beautiful bass, is just tender enough to listen to after a fun night out dancing.
Moullinex: 'Fauna'
My obsession with the Munich-based Portuguese producer Moullinex grows with every spin of his new album, Flora. Though it was released only a little over a month ago, Moullinex has announced he has a new EP coming out by the end of this month. Flora Club Versions comes packed with re-works of some of the tracks in the debut LP as well as a brand new song that blew my mind at first listen. This new track, 'Fauna,' carries a complementary theme to his recently released album, and is filled with distorted sounds of all sorts of animals, including birds, monkeys, elephants, and anything else you can think of. As weird as it may sound, it all comes together in a very well done track that surprisingly might become the next big dance floor filler.
A.N.D.Y. feat. Nyemiah Supreme: 'Pump It Up'
Belgium is increasingly providing the world with some of the best house music producers. Joining big names like Aeroplane and The Magician, Andy Faisca a.k.a. A.N.D.Y. is another artist to keep an eye on. Apart from having a very popular series of mixtapes, A.N.D.Y. produced a couple of his original tracks and several great remixes. His latest original work, 'Pump It Up,' is a collaboration with R&B vocalist Nyemiah Supreme and does an amazing job capturing the 90's house revival that has been going on recently. The boys of OXD are big fans of the 'golden era' of 90's house music, so we are all hotly anticipating what A.N.D.Y. does next.
CONTINUED, AFTER THE JUMP…
Stereogamous feat. Shaun J. Wright: 'Face Love Anew'
Stereogamous has built a solid name in the dance scene by remixing big artists such as Kylie Minogue, LCD Soundsystem, Sia and Sam Sparro in the past couple years. The openly gay Australian duo finally ventured into their first original release, with their new track 'Face Love Anew,' out only on vinyl at the moment (digital release to follow next week). This powerful debut track relies on the vocal work of Shaun J. Wright, whose voice you might recognize from the latest Hercules And Love Affair album, Blue Songs. 'Face Love Anew' (listen to the full version here) is an extremely sophisticated house music track that immerses us in deep hypnotic sounds and Wright's chants for the initial 5 minutes, before finally bursting into one of the most beautiful melodies I have heard this year; the experience is comparable to watching a movie with an amazing twist ending. All 7:33 of this song are impactful and not to be missed.
Jonas Rathsman: 'W4W'
Gothenburg-based producer Jonas Rathsman is one of the talented members of the house music label French Express, alongside Perseus, Chris Malinchak, Moon Boots and Isaac Tichauer – all of which have been featured on the OXD Mirror in previous editions. Rathsman has re-worked tracks by The Magician in the past and his productions have been constantly featured in The Magician's famed Magic Tapes. His latest release, 'W4W,' a lovely piano-driven deep house track, has an optimistic mood that will easily get the attention of some happy house-loving souls out there.
Tonight in NYC: French Express Tour @Brooklyn Bowl
Jonas Rathsman and two other French Express "knights," Chris Malinchak and Moon Boots, are taking over the decks at Brooklyn Bowl tonight for the French Express Tour. If you are in NYC, we highly encourage you to invite friends and join us for a night full of dancing and great new music with three of our favorite DJs. RSVP on our Facebook page, and check our website for more information.
This week's post was written and curated by Tadeu Magalhães.
For more information on OXD, check out our website and accompanying blog at www.occupythedisco.com, like us on Facebook, or follow us on Twitter: @OccupyTheDisco.