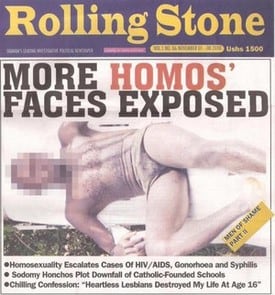 LGBT activists in Uganda had their Christmas cheer dampened by news that an unidentified vandal or vandals broke into the offices of Sexual Minorities Uganda, the African nation's leading equality group, and stole most of their essential equipment.
Among the stolen items, as listed on their press release:
5 Desk top computers – CPUs and Flat Screens
1 water Dispenser
One gas cooker
One Gas cylinder
One refrigerator
One audio recorder
One spy pen
And other unidentified property.
SMUG activists are concerned that the thieves will be able to gain access to member databases on the computers, thereby jeopardizing people's identities and safety in a country where homophobia runs rampant. It could even be used to fuel another one of Uganda's increasingly frequent tabloid tales outing and endangering gay people.
Meanwhile, prominent Ugandan Bishop Godfrey Makumbi from the Church of Uganda pulled a Mahmoud Ahmadinejad and claimed that there's no such thing as homosexuality in Ugandan culture.
"Realistically this is not in our culture. Because our African sexual values are completely heterosexual, I personally have never seen people fancying it here," he said.