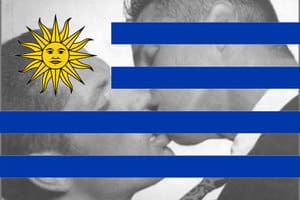 Uruguay's House has overwhelmingly passed a marriage equality bill and prospects look excellent that it will join the nations of the world which offer the freedom to marry to its citizens.
From Rex Wockner and Andres Duques (at Blabbeando):
Eighty-one of the 99 members of Uruguay's House of Representatives voted to legalize same-sex marriage this evening. Twelve members of the chamber were not present for the vote. The bill now advances to the Senate, where support is equally strong, according to LGBT activists.
President José Mujica plans to sign the measure into law in early 2013.
"Very happy here!" said Álvaro Queiruga of the LGBT lobby group Colectivo Ovejas Negras (Black Sheep Collective).
Uruguay will be the 12th nation to offer same-sex marriage nationwide.
Same-sex marriage is legal in Argentina, Belgium, Canada, Denmark, Iceland, the Netherlands, Norway, Portugal, South Africa, Spain, Sweden and Mexico (where same-sex marriage is legal in the Federal District, i.e. Mexico City, and in the state of Oaxaca, and those marriages are recognized nationwide).
It also is legal in nine U.S. states – Connecticut, Iowa, Maine, Maryland, Massachusetts, New Hampshire, New York, Vermont and Washington — and in Washington, D.C.
Among the most controversial aspects of the law so far are new surname rules, the AP reports:
Judging from the congressional debate so far, giving gays and lesbians all the same rights and responsibilities of married straight couples seems to have been the easy part for most lawmakers. The naming change seemed to cause the most controversy as the measure came through legislative committees.
In the end, the legislators proposed to let all couples choose which surname comes first for their children. And if they can't decide, the proposed law says a "sorteo," such as the flip of a coin, in the civil registry office should decide the issue.
The AP adds that "The bill also would clarify rules for adoption and in-vitro fertilization, and eliminate the words 'marido y mujer' (husband and woman) in marriage contracts, referring instead to the gender neutral 'contrayentes' (contracting parties)" and the law "would let couples, gay or straight, decide whose surname goes first when they name their children."