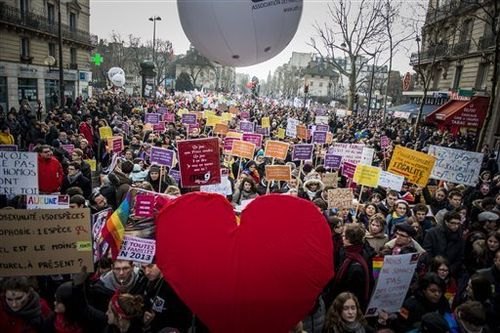 Over 100,000 French citizens took to the streets of Paris today to show their support for marriage equality there.
The New York Times reports:
Demonstrators waved banners emblazoned with phrases like "Equality of rights is not a threat" and chanted: "What do you want? Equality! When do you want it? Now!" Another placard showed a version of the French government's seal, but with two Mariannes kissing. Under the words "Liberty, Equality, Fraternity" was the slogan "No more, no less!"

According to the police, the march attracted about 125,000 people, twice the number that took part in a similar demonstration in mid-December. Two weeks ago, a rally by those opposed to the proposal drew what the police said were 340,000 people into the streets of Paris.

…

In contrast to the opponents who demonstrated two weeks ago, many of the marchers on Sunday were relatively young and personally invested in the future of the law.

Nicolas Marquart, 37, a physiotherapist, made the trip from Strasbourg with his partner, with whom he is in a "civil solidarity pact," and another gay couple. "I'm here as a gay man, and because it would be nice, since we are still in the 21st century after all, to see our morals evolve. It would be a good thing to all have the same rights."
"Since we're in the 21st Century…" makes an excellent pro-equality slogan. The man below, meanwhile, prefers "God likes Men."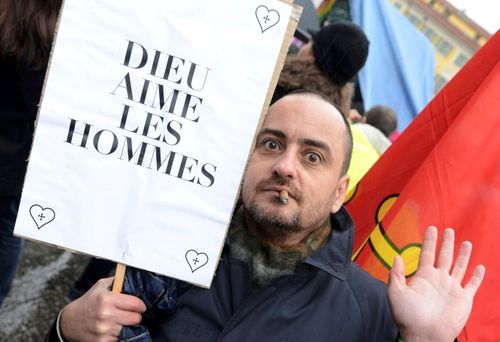 See a few more snaps of today's action AFTER THE JUMP.