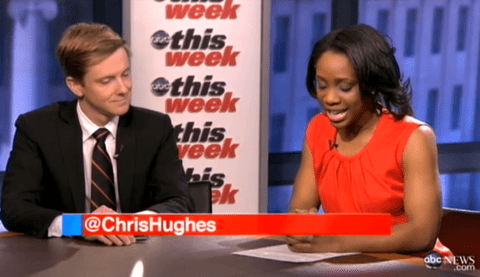 Facebook cofounder Chris Hughes sat down this weekend with ABC News' Abby Phillip to discuss a range of topics, including business partner Mark Zuckerberg's decision to hold a fundraiser for Republican New Jersey Gov. Chris Christie.
Hughes started by saying that what he loves about Zuckerberg is that he's so unpredictable, and then went on to explain that he has "serious concerns" about Christie because of the outspoken lawmaker's veto of a marriage equality bill.
"I, for one, have a lot of questions about Chris Christie, particularly because less than a year ago he vetoed a marriage equality bill in the New Jersey state legislature," he said. "For me personally, I got married to my husband last June, [and it] was just really personally frustrating."
…There are tens of thousands of couples in New Jersey that can't share their love and be recognized under the law because of that decision. I'm not a single issue voter, and I think most people aren't either, but for me personally, it would raise serious concerns about supporting someone like him.
Hughes was also asked about his plans for The New Republic, the long-running magazine he bought last year and currently edits and publishes, and according to Hughes, the only thing that will change is its scope.
"With the redesigned New Republic, we're trying to hold on to this hundred year old tradition of doing deep analysis on politics and culture. But we're also trying to broaden that and cover everything from technology to science to the world of ideas in a way that's really accessible," he said. "In a way that feels like it invites you in as a reader."
Watch Hughes speak about Christie, The New Republic and interviewing President Obama AFTER THE JUMP.