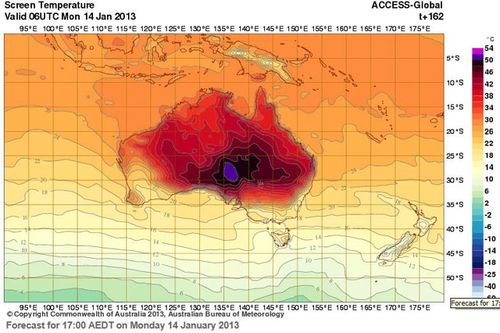 New highs forecast in Australia have forced the government to add a new color to its heat maps, AFP reports:
Central Australia was shown with a purple area on the latest Bureau of Meteorology forecast map issued for next Monday, a new colour code suggesting temperatures will soar above 50 degrees Celsius (122 Fahrenheit). The bureau's head of climate monitoring and prediction David Jones said the new scale, which also features a pink code for temperatures from 52 to 54 degrees, reflected the potential for old heat records to be smashed.
"The scale has just been increased today and I would anticipate it is because the forecast coming from the bureau's model is showing temperatures in excess of 50 degrees," Jones told Fairfax newspapers. Australia's all-time record temperature is 50.7 degrees, set in January 1960 at Oodnadatta in the state of South Australia.