Singer Azealia Banks refused to back down after calling Perez Hilton a "messy faggot" in a Twitter argument. According to the bisexual entertainer, "faggot" should not be used to mean all gay men, just certain types of gay men, those who act like girls, which is worse than actually being a girl, an affliction Azealia seems to deem lamentable. Hilton told her, "You drag while others choose to uplift!"
(Read the Banks' obscenity-laden Twitter drip stream of consciousness AFTER THE JUMP.)

Rather than immediately labeling Banks a homophobe, something we know the AP would never do, Rich Juzwiak at Gawker prefers the term "troll," as in someone who speaks "recklessly" to get a rise.
As a troll, Azealia's primary function is to speak recklessly… None of this is to say that she should be using the word "faggot." I have a painful history with that word, in this case it didn't offend me but I cannot fault those whom it did. However, there are so many other factors at play while Azealia is on her e-stage that it seems a waste of time to launch a crusade against her when there are simply unmistakable homophobes, scared gay kids who need friends and lonely older gay people to tend to.

As careless as her communication may seem, it's possible that Azealia knows what she's doing — building a foul, brash legacy.

Read more from Banks AFTER THE JUMP.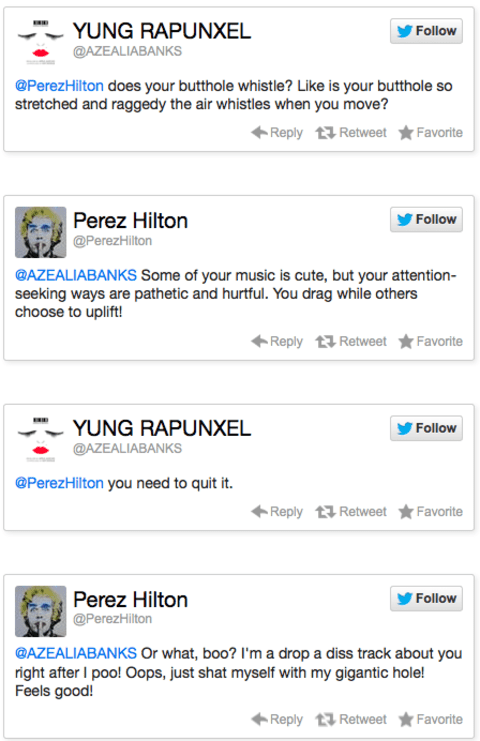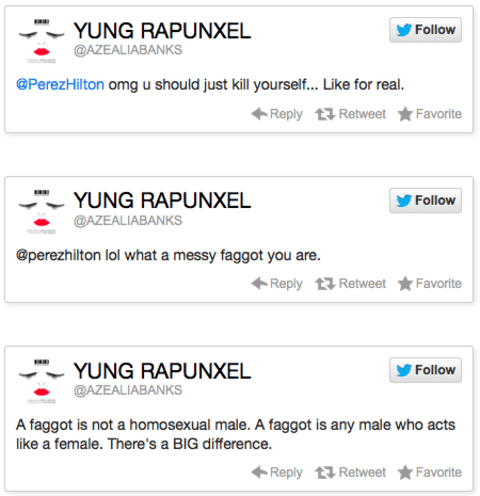 [Screenshots via BuzzFeed]