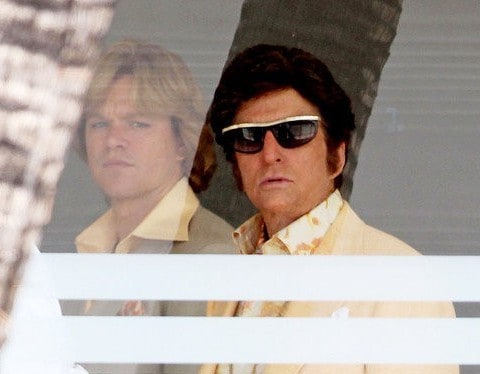 Steven Soderbergh has been working on a biopic of legendary entertainer Liberace for four years. And for most of those years it seemed that the movie, Beyond the Candelabra, starring mega-stars Michael Douglas as Liberace and Matt Damon as the singer's secret relationship with Scott Thorson, would be a shoe-in for the Oscars. But no studios would take it. According to Soderbergh, the Hollywood big-wigs were frightened off by all the gayness.
"Nobody would make it," the Traffic and Magic Mike director told the New York Post. "We went to everybody in town. They all said it was too gay. And this is after Brokeback Mountain, by the way, which is not as funny as this movie. I was stunned. It made no sense to any of us."
But the big studios' loss is HBO's gain: "This is a magnet for attention. The whole package to them looked (to HBO) like a slam dunk. The studios didn't know how to sell it. They were scared." For real: this could be HBO's 2013 Game Change, the political biopic of McCain's 2008 election that swept the Emmy Awards.
Soderbergh, Douglas and Damon were on hand yesterday to discuss the movie with the Television Critics Association. Discussing Liberace and Thorson's relationship, a relationship Liberace denied after Thorson revealed all to the press, Douglas described it as a "great love story" destroyed by the closet. "This is a couple that felt for each other. There's a lot of joyful moments; there is humor to it," he said.
And Soderbergh pointed out at the event that while Douglas and Damon's respective portrayals are appropriately over the top, particularly Douglas', he was sure not to over do it.
"I was very anxious that we not make a caricature of either of their characters or the relationship," he said. "The discussions they're having are discussions every couple has. We take the relationship very seriously."
Then, about the closet in which Liberace lived, "It's unfortunate to see the movie through a contemporary lens and know they were not allowed to be as open back then as people are today."
Soderbergh also told the Post that this will be his last movie. He decided to quit filmmaking when he turned 50, and his birthday is a week Monday. "I can feel these things coming," he explained. "I just need a complete reboot."
The Liberace biopic, Beyond the Candelabra, will air this spring.