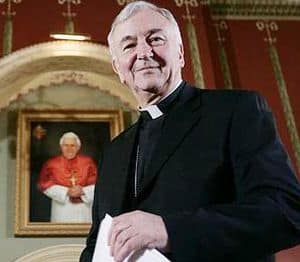 Vincent Nichols, the Catholic Archbishop of Westminster who described marriage equality proposals as "Orwellian," wielded his powers like a tyrant and shut down a long-running mass for LGBT Catholics in London.
From The Guardian:
The Archbishop of Westminster, head of Roman Catholics in England and Wales, has ordered that special fortnightly "Soho masses" for gay and lesbian churchgoers in central London are not appropriate and are to be axed.

The services, intended to be particularly welcoming to lesbian, gay, bisexual and transgendered Catholics, had been held at Our Lady of the Assumption church in the West End for six years with the blessing of senior clergy but had attracted criticism from traditionalists.

The cancellation by Archbishop Vincent Nichols will be seen as a victory for those who lobbied for an end to what they see as an affront to church teachings.
Though he has ended the special, lavender-colored mass, Nichols will allow the church to continue offering "pastoral care" for gay and lesbian congregants.